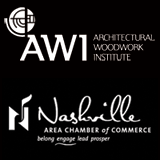 MILL CREEK ASSOCIATES arrived in the theatrical stage and scenery industry in July 1993. From there we evolved into a custom architectural millwork firm with three divisions:
• COMMERCIAL/RESIDENTIAL WOODWORK & CASEWORK
• STAGE & SCENIC
• EXHIBITS & EVENTS

OUR FOCUS is to partner directly with architects, designers and developers providing competitive pricing, timely completions, superior quality and customer service. Although our work is concentrated in the Southeast, we have major installations throughout the United States.

TAILORED DESIGN SOLUTIONS from our millwork professionals, who partner with construction and pre-construction teams to build solutions to fit budget requirement. Mill Creek can design and fabricate dynamic one-of-a-kind projects. From IDEA…to DESIGN…to REALITY…WE BUILD THE IMPOSSIBLE.
THE MILL CREEK TEAM has over 50 years combined experience in design, manufacturing, construction, and installation. Accompanying our in-house team is an extensive network of leading suppliers, applied artisans, and specialty craftsmen to ensure a premium product that meets accurate specification needs. Our project list is endless. Our 18,000 square ft. facility is equipped to handle large volume projects while we are small enough to maintain the highest attention to detail.

WHAT MAKES MILL CREEK DIFFERENT? The overpowering reason is our people: industry professionals dedicated to what they do and totally committed to quality and client service. From design to fabrication to installation we've developed fail-safe processes every step of the way for a "no surprises" experience-and we pride ourselves on our honesty and integrity.